The application "Play Minigolf" is the worlds most popular mobile application for visitors at a minigolf course. The app is a web application which means that it is fast to download and it takes minimal space when not used. Even if it is a web app it can still be used without Internet connection.

The visitors will get:
An electronic scorecard in their smart phone
Playing hints in text or video
History of previous rounds
Possiblilty to compare results with other players
Images of course and holes
Statistics
Two modes: Public players and professional players
Course owner will get:
Increased revenue
Web based interface where information, pictures and videos can be changed
Possibility to add sponsor images
News 2017: Playing tips in from the application is now also published on tips.mgolfapp.com Works in iOS, Android and Windows. The application is a web application so the phones browser is used to find it.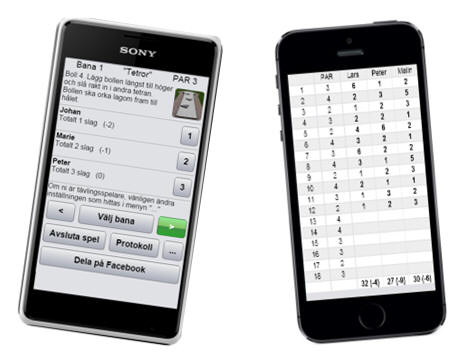 Enter one of the addresses in the mobile phones browser (eg. Safari, Chrome and Edge). Select course, enter players and begin to play.

Germany: de.mgolfapp.com
Denmark: dk.mgolfapp.com
Sweden: se.mgolfapp.com
Italy: it.mgolfapp.com
Portugal: pt.mgolfapp.com
Chech Republic: cz.mgolfapp.com
France: fr.mgolfapp.com (demo only, with swedish courses)
England: en.mgolfapp.com (demo only, with swedish courses)

If you want your course in the application just send an email to info@isberginformation.com More countries can be added.

Price: 50 EUR per course and year. New countries will get first year at no charge.

The application also works in Chrome and Mozilla Firefox on PC but it is not optimized for usage on PC. The application does not work in Internet Explorer.
Contains:
Courses
Playing hints
Players
Scorecard
Map
Par
Facebook sharing
Top list
Video
Statistics