ScoreAnalyser Mobile is the application that turns your mobile phone or handheld computer, into an electronic scorecard with statistics functionality. ScoreAnalyser Mobile has down scaled analysis functions similar to the functionality found in ScoreAnalyser for PC. More information about the application is found in the user manual.

It is not possible to get ScoreAnalyser Mobile anymore. Take a look at ScoreAnalyser for PC instead.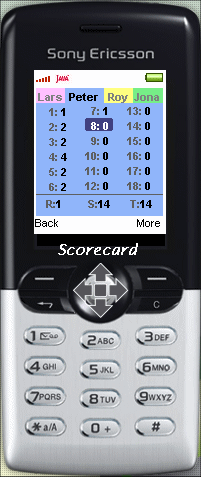 This is how the English version can look in a mobile phone. Exactly how it looks depend on the device. The application is available in several languages.
Handle:
Players
Teams
Results
Holes
Goals

Fatures:
ScoreCard
Count +/-
Analyse goals
Analyse errors
Statistics
Filter

Results:
Right practice
Right focus
Better player!!!




Other software:
ScoreAnalyser
Bangolf Arena